Hi, DRBU and DRBA community.  Buddhist Global Relief has announced its 2012 "Walk to Feed the Hungry" fundraising events. BGR is an interdenominational organization comprising various Buddhist groups. With an overarching vision to alleviate and ultimately banish poverty, BGR is involved in projects that build capacity and provide food aid to countries like Vietnam, Cambodia, Sri Lanka, Haiti, India, Kenya, Niger, and the United States.

Venerable Bhikkhu Bodhi introduces Buddhist Global Relief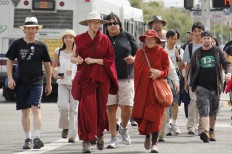 Some of the DRBU staff joined the walk in San Jose last year.  It was a great experience of mindful walking in service of a wonderful cause.  We had a chance to meet participants from various Buddhist communities in the Bay Area including, Chung Tai Zen Center, San Jose Insight Meditation Sangha, San Jose Dharma Punx, Floating Zendo, Buddhi Vihara, Berkeley Buddhist Monastery, and others. The participants visited various monasteries in the area, where dharma talks were given (for example).
This is the third year in which Buddhist Global Relief will be holding a walk to raise funds for its programs to provide relief to chronic hunger and malnutrition. From a small spontaneous walk two years ago, the "Walk to Feed the Hungry" has grown. In the first two years, over $120,000 were raised to support BGR's humanitarian efforts.
You can find more information is available at
Buddhist Global Relief's website
. This links to the BGR First Giving website, allowing interested participants to find out details about each event, register to walk, fundraise, or simply donate. Parties interested in hosting their own event and donating the proceeds can send an email to
info@buddhistglobalrelief.org
or phone at 888-852-7579.